About Us
We are located at 2396 N. Mt. Juliet Rd., Mt. Juliet, TN 37122 behind Sister's WhimZy, across from Mt. Juliet City Hall. We are open Monday through Friday from 10 AM until 5 PM. Our phone number is 615-773-7050.
PLEASE NOTE: Orders may take up to 2 weeks to produce, but often in only a few days. Be aware of delivery schedules when you place your order. If you have a rush order, let us know and we will try to accommodate you. Thank you.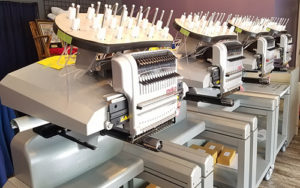 With over 40 years of experience in s.porting goods, we expanded into decoration, embroidery, and printing as Nipper's Embroidery in 2003. Located in the heart of Mount Juliet, Tennessee, we provide superior customer experience and tremendous value for our customers.
Specializing in company and school logos, digitized custom logos, and screen printing, we can customize almost anything that you bring in and can order a wide variety of products to customize according to your needs.
Shop Nipper's Embroidery for team jerseys, school uniforms, company uniforms, and so much more! We also sell items in-store, including sportswear, sporting team apparel, handbags, blankets, and baby gift items, and most items sold in our store are customizable and priced with embroidery.
We love our customers and welcome your feedback and suggestions. Use our Contact Us page to tell us what we're doing right or what we can improve on!